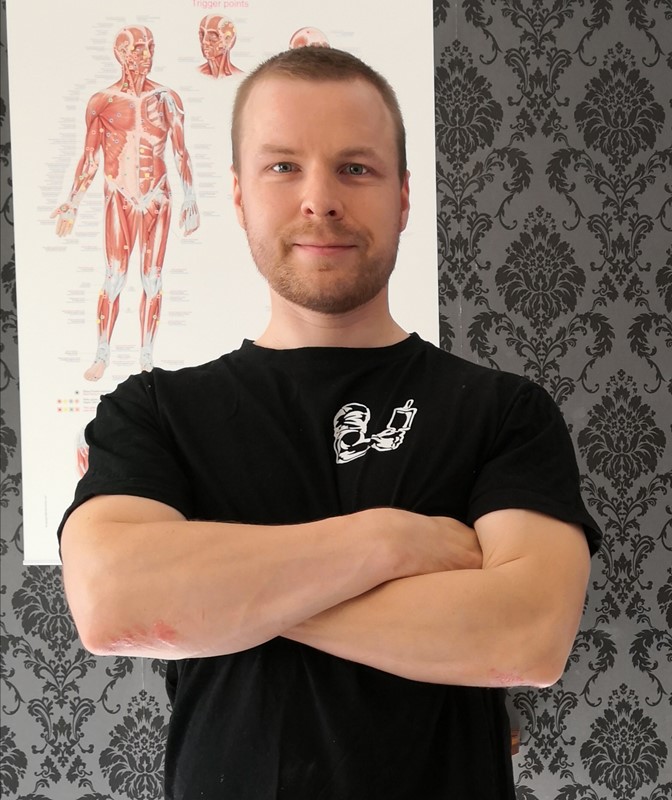 I'm a sport massage therapist and exercise physiologist.
I'm a sport massage therapist and exercise physiologist.  I have always been interested on wellbeing, which led me to study sports. I wanted to do also something concrete with my hands, so I found myself studying sport massage therapy after the University. Now it feels I have found a way to improve the quality of life for my patients. It's amazing to see how even one treatment can ease the pain of headache patient or adjust mobility of constrained joint. Other benefits of massage are for example faster recovery and prevent of injuries.
I always try to see the patient as a whole. One single symptom or pain can be consequence from somewhere else. Then treatment of only the pain area isn't enough to get constant relief. You have to find the main cause to get the best result from the treatment. My job is more or less solving problems. For example, "osteophyte" can actually be caused of an active trigger point from the soleus or gastrocnemius muscle. Pain in the knee may heal if the muscles of the tights are treated. Regular massage improves the elasticity of fascia, which is very important for elderly and can ease movement and improve the quality of life. There are lots of examples where good quality massage therapy can be the solution. In treatments I use diverse techniques from classical massage to fascia treatments, mobilization and stretching.
The exercise physiology education gives me a great understanding of human physiology and anatomy, and I can utilize that in my treatments. I can also give hints or consult on training programs and many other wellbeing problems that you have on your mind, so don't hesitate to ask.

I am a certified massage therapist and a sports masseur.
Graduated in May 2017 with up-to-date know-how. I had been thingking about career as a physical education instructor for a long time, but decided to chose otherwise after all. After living my entire life in Lappeenranta I decided to move to Jyväskylä to study.
Over the last few years, I have received additional training in various areas such as kinesiotaping, drycupping and fascia.
I have always wanted to work with my hands and not to sit in front of computer at the office. I have been interested in helping people and increasing their wellbeing as long as I can remeber and that is the main reason I chose to be a massage therapist. During these years it has been delightful to notice how much my own expertise has developed and how I have been able to help people with different discomforts. Many symptoms, like headache, numbness of hands, pains and tenseness, are often treatable with massage treatments. It is important to react early to these symptoms so they do not lead to any more severe discomforts. Basic massagetreatment can be modified individually just for you and in the case of regular massage we can use several different massage methods.
Because of my own background in competitive sports, I decided to specialize in sports massage. Based on my own history and training I am able to understand and apply massagetreatments to athletes depending on whether the on-going season is about competition or training. For everyone, regardless are you an elderly person or an athlete, basic muscle maintenance at home and moveing is very important in addition to massagetreatment. That secures the maximum benefit from the massagetreatment. On your visits we can create a small hometrainingplan or choose few easy streching instructions for you together.